Dostum's return to Afghanistan: a nod to 'warlord politics'
On eve of presidential vote, the ethnic Uzbek fighter, who's been in exile, rallied his base to support struggling President Hamid Karzai. Some say the move undermines a new, more democratic brand of politics.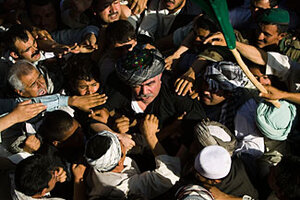 Caren Firouz/REUTERS
Afghan President Hamid Karzai has brought a notorious warlord and influential backer out of exile just ahead of Thursday's presidential vote – a sign that old-style kingmaking continues to play a powerful role even as the country tries to move to a more modern form of campaigning.
On Monday, a crowd of some 10,000 men and dozens of horses surged and eddied around Abdul Rashid Dostum at a rally here in his home district. The aging warrior told the crowd to vote for Mr. Karzai and flexed his electoral power, saying: "If you mess with Dostum, you mess with a million people."
The dramatic photo-op, however, has spurred international outrage and undermined a newer kind of politics in Afghanistan. No sooner had Mr. Karzai finished the first-ever televised debate involving a sitting Afghan leader, than General Dostum touched down at Kabul International Airport Sunday.
The debate, and other new forms of campaigning here, such as door-to-door canvassing, are a bid to reach those Afghans growing more independent in voting. The rehabilitation of Dostum, on the other hand, plays the "ethnic card" in a country still deeply divided from factional civil war in the 1990s and an ethnically rooted insurgency today.
"Except in some big cities like Kabul, where people might cast their vote based on personal perceptions, the overwhelming majority of Afghans in rural areas will make the decision based on what their local leaders tell them," says Haroun Mir, a political analyst based in Kabul.
Dostum's controversial past
---