Afghan women on the campaign trail
Their roles as canvassers, voters, even candidates in the Aug. 20 election highlight some of the gains – and remaining challenges – facing women as the country moves toward democracy.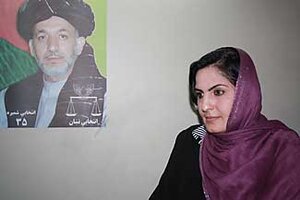 Ben Arnoldy/ The Christian Science Monitor
When Farzana Barekzai and her small band of female campaigners knock at the home of Ahmadin Pahlawan, he greets them and points to a poster of President Hamid Karzai above the door to assure them: His vote isn't changing.
Mr. Pahlawan didn't need convincing from the Karzai canvassers on a previous visit either, recalls Ms. Barekzai. Instead, the man with orange-dyed hair called the women of the house together and said, "You are going to vote for Karzai and these women will tell you why."
It's not uncommon for the male head of household to dictate a woman's vote – but neither is it universal.
"Not all families were like this. There were some families where women influenced husbands," says Barekzai. Besides, once in the voting booth, "it's only herself and her God."
Women's roles in the upcoming national elections highlight some of the gains – and many of the remaining challenges – facing Afghan women as the country has moved toward democracy.
"We have seen advancements in women's rights ... but what was agreed to and committed to has not been done," says Massouda Jalal, a former Minister of Women's Affairs. "A fundamental change has not happened in the national lives of women."
Progress for women
Considering that eight years ago Afghan women were not allowed to venture out alone, just participating at all in the elections process marks progress.
---