Afghan voting marred by violence that killed 26 and closed polling places
About 11 percent fewer polling places opened than Afghanistan estimated it needed. Provinces expected to vote for President Hamid Karzai had the most problems. Could it tip the election?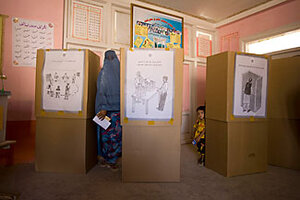 Caren Firouz/ Reuters
Insurgents launched 135 attacks and killed 26 people across all regions of Afghanistan during Thursday's presidential elections.
An election day, with its images of proud voters showing any ink-stained finger, can provide fragile democracies with a confidence boost. The violence here, however, drained much of that energy from the day.
But expectations had been so low for this election that Afghan officials still called it a win. Some analysts considered it a draw.
"Insecurity clearly had an impact on voter turnout," says Andrew Wilder, an Afghanistan expert at the Tufts International Center in Medford, Mass. "That said, it wasn't stopped [and] there were no devastating attacks on election day that [turned] it into a victory for the Taliban." Wilder says that, by the standards of past Afghan elections, security was better than expected.
But there was still violence across the country as the Taliban tried to make good on its process to disrupt the vote.
Southeastern Afghanistan had the most incidents with 10 suicide attacks, 10 mine blasts and three other attacks according to data provided by the ministry of defense.
Official Afghan reporting on the violence today tended to be much lower than independent tallies. For instance, the BBC reported that Laskhar Gah, the capital of Helmand Province, was hit by 20 rockets and a local journalist in Kandahar said nine rockets struck that city today. Yet the defense ministry said there were only five attacks across an Afghan region that includes Laskhar Gah and Kandahar.
---