Karzai, Abdullah both claim victory in Afghan election
Preliminary results are days away. All the campaigns have complained of fraud.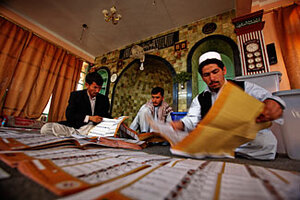 Dima Gavrysh/AP
The top two candidates in Afghanistan's presidential race both claimed to be on their way to victory after Thursday's vote.
Meanwhile, the Electoral Complaints Commission (ECC) has received roughly 150 official allegations of election fraud and expects a significantly larger number to arrive in the coming days. With preliminary vote-count results days away, each camp is working to influence public perceptions and gather legal ammunition for appealing a possible loss.
"I would say that we were expecting a much better process," says Abdullah Abdullah, the main rival of incumbent Hamid Karzai. "The incompetence of the election commission – its independence was under question anyway – its incompetence was very evident and interference was evident."
He complained that his campaign could not deploy some 9,000 of 29,000 poll monitors because of a slow accreditation process and interference from local government officials in five provinces.
"Our observers were stopped by government officials from getting to these stations. There were a lot of threats and intimidations," says Dr. Abdullah, who says this is among the more than 100 complaints his campaign has officially filed.
The spokesman for the Independent Election Commission, the Afghan body that ran the election, says both campaigns got their badges "in a short time" and within two or three days of the vote.
---