India's farmers struggle without crucial monsoon rains
Average rainfall dropped 29 percent from June to mid-August – prime planting season for India's 234 million farmers. It's the worst monsoon season in years –though an increasingly diverse economy will ease the overall impact.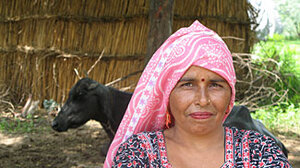 Mian Ridge
The only thing growing in Jayabati's parched field this summer is a mound of cow-dung bricks that, once dried and hardened, will be used as cooking fuel.
"No rain, no planting," says the weary-looking woman, who goes by one name, as she stands on the tiny plot of land she farms with her husband in the northern Indian state of Uttar Pradesh.
Like most of India's farmers, Jayabati has no access to irrigation systems. She depends entirely on the monsoon rains that fall between June and September to water her staple sorghum crop.
This summer, the rains have stayed away.
India is experiencing its worst monsoon in years. Though a bad monsoon is less damaging to an economy that is diversifies away from agriculture, it is making life tough for India's 234 million farmers.
Driest June in 80 years
Summer showers account for 80 percent of the country's annual rainfall but from June to mid-August – India's most crucial planting period – they were 29 percent lower than average, says India's meteorological department. In Uttar Pradesh, they were down more than 60 percent. The month of June was the most arid in India in more than 80 years.
Rice, the biggest crop sown during the monsoon, has been worst hit, along with sugar cane and oilseeds. Though rainfall has improved in some areas in recent weeks, it has come too late for many crops, which require an even sprinkling of rain throughout the sweltering summer. Some fear that heavy showers now could damage already reduced crops of sugar cane.
---