US applies Colombia antidrug lessons to Afghanistan
A new strategy in Afghanistan to combat the opium trade draws on US experience curbing cocaine shipments in Latin America.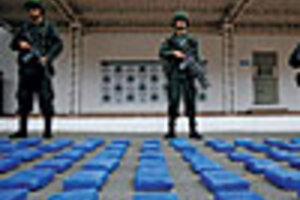 John Vizcaino/Reuters
Mexico City; and Bogotá, Colombia
As the United States retools its counternarcotics strategy in Afghanistan, officials are looking to Colombia for lessons.
The two nations share many burdens: Colombia is the largest supplier of cocaine in the world, Afghanistan of opium. Both have impoverished rural communities easily enticed into trafficking webs. Both are vulnerable to the sway and command of insurgent groups that finance their fight with proceeds from the drug trade.
The parallels have led to calls for exporting elements of the nearly decade-old "Plan Colombia," the US-funded antinarcotics effort, to Afghanistan. Critics are wary. But it seems that, at least at the outset, the US is learning as much from its mistakes as from its successes in South America.
For example, instead of pouring money into crop eradication as it did in Colombia, the new US strategy in Afghanistan will phase out eradication, and place a new emphasis on the interdiction of opium shipments and encouraging farmers to adopt alternate crops.
The number of Drug Enforcement Agency officials in Afghanistan will increase more than sixfold by next year, to as many as 81 agents. The DEA and US military will target (to be killed or captured) the top 50 drug traffickers with ties to the Taliban.
---