Farmers take to streets as Doha trade talks start in India
More than 10,000 protested the potential lowering of barriers to agricultural trade that would put them in competition with mechanized foreign operations.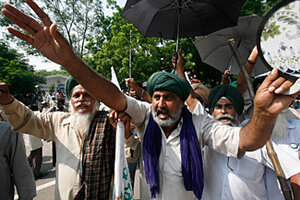 Mustafa Quraishi/AP
More than 10,000 Indian farmers Thursday protested the opening day of international trade talks in Delhi, fearful that on top of their burdens of a crippling drought and deep debts, they will face an influx of cheap foreign crops from countries like the United States.
"We don't get fair prices for our crops now," says Yogendar Singh, a sugar farmer from Uttar Pradesh. "And when this World Trade Organization deal goes through, then we are even more threatened."
With the worldwide economic downturn, some nations – particularly the wealthiest – argue that lowering barriers to global trade in agriculture in the Doha Round would inject a global stimulus and repudiate moves by panicky governments toward protectionism.
"Growth in employment is likely to lag and concern about protecting workers will pressure governments to keep on adding new protectionist measures," says Jeff Schott, a senior fellow with the Peterson Institute for International Economics in Washington. A Doha deal could create "a buffer against new protectionism."
---