Standoff over Karzai win threatens Afghan power vacuum
Conflict between the two commissions tasked with validating the vote could delay a possible runoff until after the winter snows.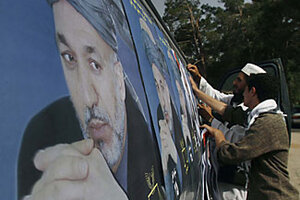 Fraidoon Pooyaa/AP
A standoff between the two bodies charged with validating Afghanistan's troubled elections is further delaying an already urgent situation – and could result in a dangerous power vacuum if not resolved before winter.
The votes are all counted, with 54.6 percent going to President Hamid Karzai. But they are not all valid. Mr. Karzai acknowledged Thursday for the first time that some of his supporters – not just his opponents – perpetrated fraud: "There were some government officials who were partial toward me."
If enough of Karzai's votes are tossed out and he slips below 50 percent, he would face a runoff election. But a runoff would be problematic after October, when heavy snows severely limit transportation in parts of the mountainous country, meaning the election results may not be finalized until spring.
The Independent Election Commission (IEC) – whose head is appointed by Karzai – says it cannot conduct a recount of some 10 percent of the country's polling stations in time for an autumn runoff vote. Instead, it is petitioning to change the criteria for the recount in a way that would minimize the time required – and probably preserve more votes for Mr. Karzai.
This is news to the Electoral Complaints Commission (ECC), a group of international and Afghan officials tasked with resolving election disputes. They ordered the audit and recount back on Sept. 8, and will decide which votes to toss out. Each group says it is waiting on the other to get started.
---