Pakistan tests civilian militias to keep Taliban out of Swat Valley
The ranks of lashkars have grown to 8,000, according to local leaders, since the Army retook the valley in June. Some residents worry about militarizing the population.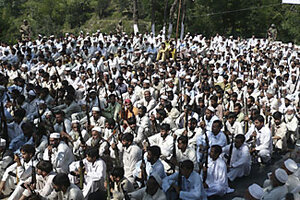 Naveed Ali/AP
Tontana Bandai, Swat, Pakistan
For Tilawat Shah, a middle-aged farmer in a village on the remote western border of Pakistan's Swat Valley, the dark days of Taliban rule must never be forgotten. "They coerced people into giving them money and shelter, they put guns to the heads of our elders, they cut down our trees, blew up schools, and killed anyone who got in their way," he recalls.
In an effort to keep the Taliban out after a three-month Army offensive ended the militants' two-year rule here, Mr. Shah and some 8,000 other villagers have taken up arms and joined military-sponsored militias, or lashkars.
The civilian fighting forces have cropped up across Pakistan's northwest before to try to keep the Taliban away, often with disappointing results, because they are weaker than the militants and lack backing from the military. Now, the Army is reviving the idea in Swat, and promising to provide the assistance needed.
Two weeks ago, a posse of Taliban fighters that entered a mosque during Ramadan was repelled by the local lashkar, who shot three of them dead and forced the rest to flee. One local villager was also injured, and, in a sign of growing cooperation between the militias and the Army, was whisked by soldiers to a military hospital.
On Monday, military officials presented the latest lashkar in front of the media in the town of Piochar – the former base of operations for Swat Taliban commander Maulana Fazlullah.
---