Sri Lanka under fire for lack of Tamil reconciliation
After defeating the Tamil Tigers this spring, the country has delayed the return of more than 250,000 displaced Tamils, citing concerns about mines and potential terrorists.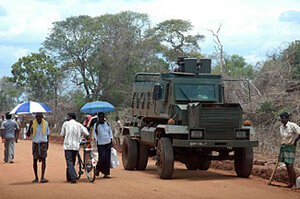 REUTERS
When Sri Lanka's government finally defeated the secessionist Liberation Tigers of Tamil Eelam (LTTE) in May, even its harshest critics rejoiced. Here, at last, was a chance to bring peace to an island that had suffered 26 years of war, in which as many as 100,000 people were killed.
The end of the war gave Sri Lanka an opportunity to heal the bitter ethnic conflict between the Sinhalese majority and Tamil minority that had fueled it. But even as the government says it seeks reconciliation, it is drawing fire for actions that appear counterproductive to achieving that goal.
Chief among the complaints is delaying the return of more than 250,000 displaced Tamils. They have been refused permission to return to their homes or, in many cases, unite with spouses and children living in other camps. In addition, aid agencies have been given limited access to the camps and most reporters have been barred.
Last Friday, President Mahinda Rajapaksa announced he would ensure the return of all refugees by January, after demining operations were completed in the areas around their homes. The government has also said it wants to ensure that it identifies any Tamil militants among the displaced before allowing them to go home.
Mr. Rajapaksa's assurances came during a meeting with UN envoy Lynn Pascoe, who was visiting the country to follow up on a number of issues including the government's expulsion of James Elder, a spokesman for UNICEF – the United Nations' child-welfare agency.
---