Growing number of China incursions into India lead to a strategy change
Along the disputed border near Ladakh, India has long neglected infrastructure to discourage a Chinese invasion. But the strategic landscape is shifting.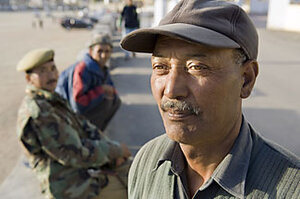 Mary Knox Merrill/Staff
First came the Chinese helicopters, flying low. Then came the Indian officials asking what happened. Suddenly, the tiny Himalayan village of Demchok stands at the center of rising tensions between the world's two most populous nations.
Villagers told an Indian delegation recently that the two Chinese choppers buzzed the village in August and flew several miles into Indian territory, according to Tsering Mutp, a retired Indian soldier who attended the meeting. Mr. Mutp says the villagers had some pointed questions for the visiting officials. In particular, they asked why on the Chinese side of the river there are paved roads and development but nothing on their side.
The answer lies in India's strategy for dealing with China's land claims. In the past, India has deliberately neglected the roads and other infrastructure in such border regions to slow down any possible invasion, says Brahma Chellaney, a security expert at the Center for Policy Research in New Delhi. But in response to a major spike in cross-border incursions by the Chinese in the past few years, the Indian approach is changing, with plans to expand infrastructure and bring more of a government footprint to the contested region.
"Now the Chinese are basically doing so much damage on the Tibetan plateau, and given these Chinese border incidents and provocations, the Indians have been left with no choice but to begin infrastructure development along the Himalayas," says Mr. Chellaney.
---