Pakistan's Pashtuns, looking for statehood, may look to Taliban
The Taliban could expand their influence to more Pashtun areas by merging its pan-Islamic goals with the long-suppressed dream of a Pashtun state.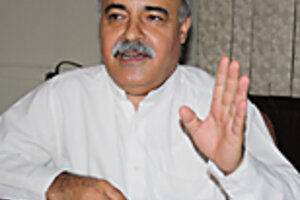 Ben Arnoldy / The Christian Science Monitor
A long-dormant nationalism movement among ethnic Pashtuns shows signs of reawakening as Pakistan – at United States urging – has boosted military activity in their region and as political efforts for autonomy have stalled.
The most basic Pashtun demand, changing the name of the North West Frontier Province to Pakhtunkhwa ("Land of the Pashtuns"), was thwarted in September by dominant ethnic Punjabis. A new faction of Pashtun nationalists has protested in Peshawar, the capital of the NWFP. Leaders warn that younger cadres may abandon politics for arms.
Stemming widespread discontent among Pashtuns is important because they hold the keys to the war on terror. Their lands straddling the Afghan-Pakistani border are a haven for the Taliban and top Al Qaeda figures like Osama bin Laden.
Many Pashtuns are frustrated with the Islamic militants' presence and the military offensives they have brought – anger that secular leaders, who have traditionally led the push for autonomy, can channel against religious extremism.
But a peril also exists: Islamic militants may become the force seen as best able to deliver autonomy for Pashtun regions.
"The danger of the [largely Pashtun] Taliban overtly using Pashtun nationalism to justify an independent Pashtun state is small because they are operating with financial support of jihadi forces," says Selig Harrison, director of the Asia Program at the Center for International Policy in Washington and author of a recent report on Pashtun nationalism.
---