Bomb in Pakistan's Peshawar sharpens prospect of military showdown
A suicide bomb that killed more than 40 people in a Peshawar market capped a week of provocative moves by the Taliban.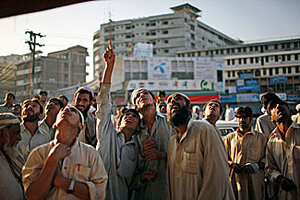 Alexandre Meneghini/AP
A suicide bomber that killed more than 40 people in the Pakistani frontier city of Peshawar capped a week of provocative moves by the Pakistani Taliban in defiance of a threatened military attack on their headquarters in the tribal region of South Waziristan. A military showdown now seems all but assured.
"We have no other option but to carry out an operation in South Waziristan," Interior Minister Rehman Malik told a local television station. "All roads are leading to South Waziristan. We will have to proceed."
Once again, it is ordinary ethnic Pashtuns caught between the traded blows and bravado of the militants and the state.
"Earlier there may have been some sympathies toward these Taliban or Al Qaeda, but … a reaction against them has been emerging," says Ijaz Khattak, a professor of international relations at Peshawar University. "There is a general view coming forth – one that isn't properly represented yet – where people simple ask, 'How do we get rid of these people?'"
At the same time, he adds, "people are losing confidence in the state's ability to provide them any protection."
The bomb struck Khyber Bazaar, a historic market frequented by lower- to middle-class shoppers. More than 100 people were also wounded in the blast.
The city's famed carpet merchants – many of whom are Afghans who fled their country's civil war – are starting to pack up their shops and leave.
---