Latest militant attack rocks Pakistan's Swat Valley
More than 40 people were killed in a suicide bombing Monday. It's part of a fresh Taliban bid to engage the Army on several fronts ahead of the Army's planned offensive in South Waziristan.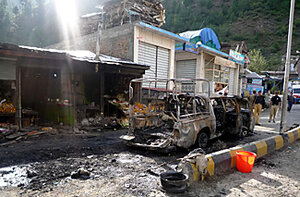 Abdullah Khan / AP
More than 40 people were killed Monday in a suicide bombing aimed at a military convoy in Pakistan's restive Swat Valley.
The fourth militant attack in eight days occurred in the town of Alpuri in Shangla district, an area the military had claimed was secured, and it's being seen as the Taliban's latest attempt to engage the Army on several fronts ahead of the Army's planned ground offensive on the Taliban's South Waziristan base.
It comes a day after the Army ended a 22-hour long hostage siege at their headquarters in Rawalpindi freeing around 40 military personnel and civilians. Three hostages, eleven military personnel, and eight militants were killed during the course of the siege, which ended shortly before dawn on Sunday, while one militant, believed to be the ring-leader, was captured alive.
US Secretary of State Hillary Clinton said that the attack was evidence of an increasing threat to the authority of the Pakistani state.
Dr. Rifaat Hussain, a military analyst at the Quaid-e-Azam university in Islamabad says the two attacks are "related to the initial phase of the South Waziristan operation where the military are using airstrikes to soften their targets. The Taliban feel it's in their interests to take on the security forces in as many theatres as possible to prevent the military from succeeding in South Waziristan just as they did in Swat."
Back to square one?
Major Mushtaq Khan, a spokesman for the military's Swat Media Center, told the Monitor that Monday's blast occurred when a young militant, believed to be in his early teens, walked in front of a convoy and blew himself up. The trucks were loaded with munitions and amplified the effects of the blast, he said.
---