Why Pakistanis would reject $7.5 billion in US aid
New poll indicates that the Kerry-Lugar bill, already confronting opposition from Pakistan's political and military establishment, faces a wave of popular distrust of the US as well.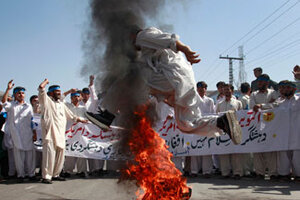 Fayaz Aziz/REUTERS
The United States is offering $7.5 billion to Pakistan for development – but only 15 percent of Pakistanis support accepting it, according to a Gilani Poll/Gallup Pakistan survey released Wednesday. It is not affiliated with the Gallup polling group in the US.
Barely a quarter of the 2,500 Pakistanis polled believe the money earmarked in a bill put forward by Sen. John Kerry (D) of Massachusetts and Sen. Richard Lugar (R) of Indiana will improve the ordinary lives of the people.
The poll comes after Pakistan's military and political opposition strenuously objected to various strings attached to the aid, opening a rift in US-Pakistan relations.
Senator Kerry said Wednesday that there are no conditions attached to the bill that "impinge" on Pakistan's sovereignty. But the people of Pakistan, it seems, aren't convinced. The outcome of the poll suggests that the US, which is facing opposition from Pakistan's entrenched political and military establishment, is also confronting a wave of popular distrust of US motivations.
"It's not something that only the Islamabad pols discuss," says Ijaz Shafi Gilani, the Gilani Poll/Gallup Pakistan pollster. "It's not only about the conditionalities [on the money], but disenchantment with aid as an instrument of development."
---