Fresh Pakistan attacks underscore reach of Taliban
The Taliban attacked the Federal Investigation Agency, two police academies in Lahore, and a police station in the northwest, part of a weeklong onslaught that could strengthen military's resolve against the militants.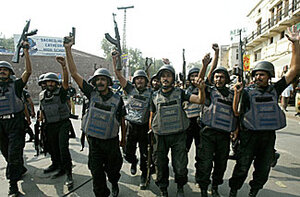 K.M.Chaudary/AP
A series of deadly attacks apparently aimed at testing the resolve of Pakistan's security forces ahead of a planned offensive against militants in South Waziristan left more than 30 dead on Thursday.
Two of the targets had been attacked before, underscoring the reach of the Taliban, which claimed responsibility, and the failure of security forces to secure high-profile locations.
While the onslaught of attacks in urban areas may deepen Pakistanis' sense of insecurity, it could also strengthen their support for the Army to fight the Taliban.
"The most dangerous thing is they were able to target the same places twice. So we're running out of adjectives here. We've been calling them bold, brazen, audacious," says Asha'ar Rehman, the Lahore bureau chief of Dawn, a leading English daily. "It hurts the psyche of the people. After learning the lessons of the past, we're still an easy target."
Repeat attacks underscore threat
In tactics similar to those used to strike the Army headquarters in Rawalpindi last week, militants disguised in uniforms attempted to storm an office of the Federal Investigation Agency (FIA) and two police academies in the eastern city of Lahore, killing at least 23 people.
Also on Thursday, a suicide car bomber struck a police station in the northwestern town of Kohat, killing 11 people, while later in the evening, a child was killed and several injured during a suicide car bombing in a military housing colony in Peshawar. Another bomb, in the northwestern city of Peshawar, left five injured.
---