Blame game intensifies over Philippines typhoon response
The Philippines were hit hard by two recent storms. Critics say politicians have ignored repeated warnings of the capital's vulnerability.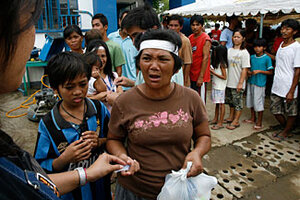 Erik de Castro/REUTERS
The floodwaters around the deluged Philippine capital Manila have yet to fully subside after the onslaught of two successive tropical storms. But the blame game over the response to the crisis, and the nation's lack of preparedness, is rippling outward.
In total, more than 700 people have died and at least 6 million have been displaced, first by tropical storm Ketsana, which reached Manila on Sept. 26, and then by typhoon Parma, which circled for a week over northern Luzon island and inundated communities, roads, and fields in the country's breadbasket. Losses to agriculture are estimated at $400 million.
On Wednesday, President Gloria Arroyo described the Philippines as a victim of climate change and said she would seek as much as $1 billion in foreign aid to pay for rehabilitation. A donor conference is expected by early December. The UN has launched a separate $74 million relief appeal.
But questions have been raised about the extent to which hillside deforestation, watershed urbanization, and the growth of riverside slums had undermined Manila's disaster management. Critics say the politicians pleading for aid have ignored repeated warnings of the capital's vulnerability to tropical storms.
The result may be less a parable of climate change – some experts say extreme weather events are increasing as a result of global warming – than the failings of successive elected governments to heed the advice of urban planners.
---