In Afghanistan, Army cook transforms rations into a mean burrito
US soldiers at this tiny base in eastern Afghanistan line up an hour early for Spc. Jose Flores's delicious meals.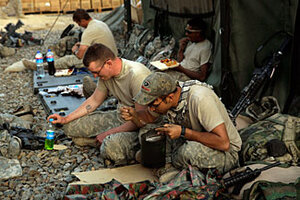 Maya Alleruzzo/AP/File
Combat Outpost Zerok, Afghanistan
The anticipation is palpable on Mexican night at this tiny US base in the mountains of Paktika Province in eastern Afghanistan. Every Thursday, soldiers start lining up an hour early as Spc. Jose Flores hand-rolls more than 200 made-to-order burritos for the base. The creative cook has earned something of a cult following in his unit for his ability to transform military rations into tasty meals.
More anomalous than the appetizing military food though, is the fact that the chef behind it is an Army cook.
Though the Army cook has long held a prominent role in military fiction and folklore, on bases in Iraq and Afghanistan they're all but obsolete. Private contractors such as KBR now run the vast majority of downrange cafeterias, while military cooks have been pushed into odd jobs like guard duty. Only occasionally are they tasked to their actual job, usually on small outposts beyond the reach of contractors where – out of practice – they get anything but positive reviews.
Through a series of lucky breaks and hard work, though, Flores has made himself a military cook who actually cooks. Now, he's arguably one of the best cooks in the Army, having worked on a cooking team that placed second in an Army-wide competition and trained under a cook who later won the title of best senior chef in the Army.
"Only a select few get this kind of experience," says Flores, describing just the amount of time he's spent in the kitchen, let alone working under high-level mentors.
During his first tour in Iraq, for example, Flores estimates that only about 20 percent of the military cooks in his unit got experience in front of the stove. With the military's reliance on contractors already widespread by the time Flores enlisted in 2003, he says rumors have been circulating for as long as he's been in uniform that the Army will do away with military cooks completely in favor of civilian contractors.
---