Karzai about face could salvage Afghanistan election
President Hamid Karzai backed away from threats to reject an election runoff Monday in a move diplomats say breathes life into efforts to find a legitimate leader for Afghanistan.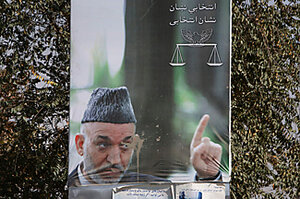 Musadeq Sadeq/AP
Afghanistan's presidential election is heading toward a runoff, and the campaign of incumbent Hamid Karzai appears to be backing off threats to reject such a result.
Analysts see these developments as a step toward restoring some credibility to an election marred by widespread fraud, low-turnout, and Afghan suspicions of foreign meddling.
On Monday, a commission tasked with sorting out fraud complaints publicly issued its rulings, almost two months after the original vote. Once applied, President Karzai is expected to wind up with 48 percent of the vote – just shy of the threshold needed to win after a first round.
"We are waiting for a final certified result," says Waheed Omer, spokesman for Mr. Karzai's campaign late Monday. "Whatever it comes out in a certified, final result, that will be acceptable to us."
The caveat is that the only body capable of making that final certification – the Independent Election Commission (IEC) – is run by Karzai appointees and had hired some election workers who went on to commit fraud on Karzai's behalf.
However, the IEC is bound under Afghan law to implement the fraud rulings as directed. The most it's expected to do for Karzai is delay certifying the results for a few days. Analysts express hope that then the process will move on toward a more legitimate resolution.
---