Afghanistan election: Karzai rival suggests terms for fair election runoff
In an interview, Abdullah Abdullah, the underdog presidential candidate, talks about preventing 'ghost polling' and sidesteps question about a possible concession ahead of the Nov. 7 Afghanistan election runoff.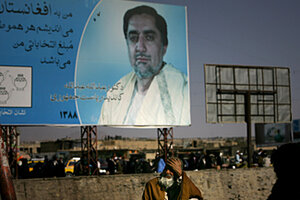 Altaf Qadri/AP
The chief opposition candidate in Afghanistan's presidential campaign says that in the next one to three days, he will put forth some conditions for the conduct of the Nov. 7 runoff election.
Abdullah Abdullah says these will include: making changes to the Independent Election Commission that runs the elections, preventing President Hamid Karzai from using the levers of government to campaign, and ensuring there are no "ghost polling stations" – voting centers in areas so insecure that they exist only on paper.
He refused to say what he would do if these conditions are not met. At this point, the obvious card he has left to play is to withdraw from the race.
In some ways, such an exit could be a welcome outcome for all sides. Dr. Abdullah would avoid losing a head-to-head contest where he is the decided underdog. Mr. Karzai retains the presidency. And the international community avoids losing money, soldiers, and – with the policy debate paralyzed by election uncertainty – time.
Yet a withdrawal by Abdullah, depending on how he handled it, also runs risks of stigmatizing Karzai's reelection and disengaging Abdullah's voters from the political process.
---