Massive car bomb targets more civilians in Pakistan
The attack at a market in Peshawar, which killed at least 74 people, came as US Secretary of State Hillary Clinton arrived for a three-day visit.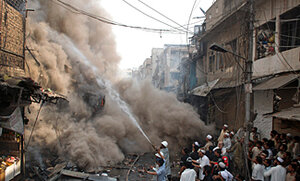 K.Parvez/Reuters
A car bomb ripped through a crowded bazaar in the northwestern city of Peshawar, killing at least 74 people on Wednesday. The deadly attack coincided with the start of a three-day visit by US Secretary of State Hillary Clinton, who told reporters upon arrival that "Pakistanis have rendered extraordinary sacrifices to stamp out extremism."
The bombing, which brings this month's civilian death toll from terror attacks to more than 250, fits an emerging pattern. As the Army pushes its offensive in the Taliban's base of South Waziristan, militants are lashing out with more attacks on civilians rather than security-related targets.
"It is a different pattern that is emerging now," says security analyst Ayesha Siddiqa. "What they are trying to do is maximize the germs of fear in the society."
Television footage from Wednesday's blast showed that many shops and vehicles in the area had caught fire while people frantically sought survivors amid the rubble of the Peepal Mandi marketplace. The market sells mostly women's products.
---