In Afghanistan runoff, more polling stations may mean more fraud
With less than half as many election workers in Afghanistan's second round of voting, it may be even easier for "ghost" stations to submit fake votes.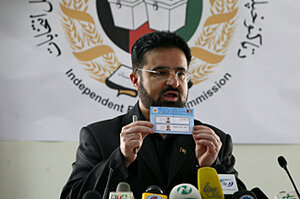 Musadeq Sadeq/AP
Despite having fewer poll workers and a declining security situation, Afghanistan's election commission announced Thursday it would increase the number of polling centers for the presidential runoff.
While some analysts suspect the goal is to achieve high-enough turnout for a credible result, the ambitious plan heightens concerns that fraud will once again mar the election.
The first round of voting, on Aug. 20, saw between 6,167 and 6,306 centers open. For the Nov. 7 runoff the Independent Election Commission says it will open 6,322. The decision comes as a surprise since a number of "ghost" polling centers were never opened to the public or to monitors, yet sent fraudulent voter tallies back to Kabul.
More voters vs. one fewer candidate
President Hamid Karzai's runoff rival, Abdullah Abdullah, has unsuccessfully called on the IEC to provide a list of ghost stations and remove them from the ranks of runoff centers. Dr. Abdullah has also called for top IEC officials and several cabinet ministers to be sacked, to ensure a fair and clean second round. He has hinted he may otherwise boycott the election – a move that would further depress turnout.
When it comes to the credibility of the result, the decision may indicate that the IEC is more concerned about turnout than Abdullah quitting or fraud reoccurring.
---