Abdullah pullout from Afghan runoff sows new doubt over legitimacy
President Hamid Karzai's top rival, Abdullah Abdullah, said a "transparent election is not possible." Will his supporters resort to violence?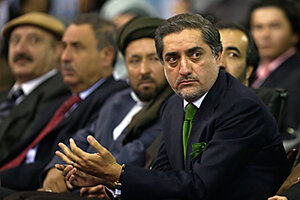 Ahmad Masood/Reuters
The challenger to Afghan President Hamid Karzai announced Sunday that he is withdrawing from the Nov. 7 runoff election, casting deeper doubts about the foundations of support for the next government in Afghanistan as well as the ability of the international community to influence it.
Abdullah Abdullah said he would not participate in the runoff because a "transparent election is not possible." But he did not call for a boycott of the vote.
Before dropping out, Dr. Abdullah lobbied unsuccessfully for a number of changes to the election process aimed at curbing the widespread fraud seen in the first round. He called for the replacement of several of Mr. Karzai's top appointees within the country's election commission and a decrease in polling centers in areas where insecurity prevented oversight. Instead, the commission sacked only lower-level workers and actually increased the number of polling centers.
The refusal to compromise with Abdullah worries observers that Karzai – who is now all but assured to win another five-year term – still sees no need to prioritize clean, effective governance.
"There's a widespread but ill-grounded assumption that the Afghan government will be disposed to engage in reform under Western pressure," says William Maley, an expert on Afghanistan politics at the Australian National University. "Right under the noses of the internationals, they have engaged in utterly shameless fraud and, in effect, they got away with it."
Hope deferred
Less than two weeks ago, intense international pressure resulted in Karzai accepting a runoff due to widespread fraud. Western officials and analysts saw a silver lining there: International backers found the right buttons to push with Karzai. Glimmers of hope emerged that if Karzai stuck around for five more years, perhaps he could be a partner for international efforts to win back the support of a population gripped by insurgency.
---