British MP calls for Afghanistan withdrawal as five UK soldiers are killed
Britain's Kim Howells, who chairs Parliament's security and intelligence committee, called Wednesday for the withdrawal of British troops from Afghanistan. Public discontent has been rising.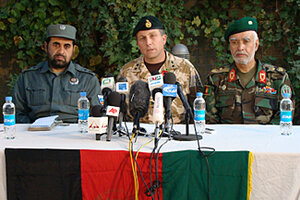 Abdul Khaleq/AP
A major rift in Britain's governing party over the war in Afghanistan opened up Wednesday when a former Foreign Office minister became the first senior British politician to call for a withdrawal of British troops.
Kim Howells, a Labour Party MP who chairs a parliamentary committee overseeing intelligence and security, published his article calling for withdrawal just ahead of news that five British troops were shot dead in southern Afghanistan. Analysts say his senior position, and the access to classified information it affords him, will likely give his words resonance among the broader British public.
"He is not just any parliamentary backbencher. He is chair of a very important committee, 'the' committee when it comes to security and intelligence, which reports directly to the Prime Minister and whose members have a very high security clearance," said Paul Rogers, professor of peace studies at Britain's Bradford University.
The shift of position from Mr. Howell – an early and ardent supporter of the Afghan invasion – comes at a delicate time, with UK public support for the war dwindling even as President Obama is considering a troop surge into the country. The UK is the second largest contributor of troops to the war and while the government says it remains committed, the British public is growing increasingly skeptical about the loss of life in a foreign land that recently saw President Hamid Karzai reelected in a corruption-tainted election.
---