Afghanistan's Abdullah calls Karzai confirmation 'illegal'
Abdullah Abdullah also said Wednesday that President Karzai's government could not effectively tackle corruption or fight Afghanistan's insurgency.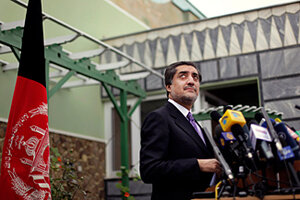 Anja Niedringhaus/AP
Afghanistan's main opposition leader bowed out of the presidential contest peacefully – and even urged supporters not to protest.
But he's not letting Hamid Karzai retake power that easily.
In a press conference Wednesday, three days since dropping out of the race, Abdullah Abdullah questioned the legitimacy of President Karzai's new government, saying it fell to the people of Afghanistan to decide and declaring the decision to cancel the election runoff "illegal."
Commenting on the death of five British soldiers Tuesday in southern Afghanistan, Dr. Abdullah suggested the controversial elections result would only result in Western countries needing to send more troops.
"Eight years down the road we still need more troops. In the absence of a credible, reliable, and legitimate partner, more soldiers, more resources are the only thing which will be resulted," said Dr. Abdullah.
Election fiasco spurs calls for more US troops
The messy elections have, so far, dampened enthusiasm in Washington over sending more troops, since additional forces are tied to a counterinsurgency strategy that hopes to win back popular support for the government. But with the elections finished, some Afghans are couching the need for more troops in terms of simply stopping the insurgency from spreading, particularly in once-stable northern areas where Abdullah's loss is alienating political leaders.
---