Should Obama order Afghan war troop surge? Troops say maybe not.
October was the deadliest month for US troops in the Afghan war. Troops say a surge could stall handing off operations to Afghans, but concerns about security remain.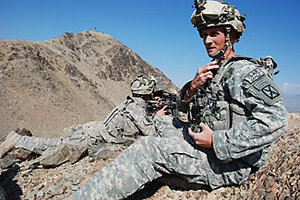 Tom A. Peter
COMBAT OUTPOST PENICH, Afghanistan
As President Obama and his top advisers make their final decisions on whether to send 40,000 or more troops to Afghanistan, it comes on the heels of the bloodiest month for US forces in the history of the eight-year conflict. In October, 55 troops were killed in action in Afghanistan.
If there is a surge, US Army Capt. Micah Chapman says there will likely be more months like this ahead. "The more troops you have on the ground, the more chances there are for casualties," says the Fort Drum, N.Y., resident. "But I think you'll see a marked decrease in violence across the board once you get past the initial flood stage."
But for many of the soldiers at Combat Outpost Penich, top commander Gen. Stanley McChrystal's stark warning – to send more troops or risk failure – sounds too dire. At least in the eastern Kunar River Valley, where their company-sized force (about 100 soldiers) is posted, they say the challenges aren't quite so insurmountable. Yes, they say, major results may take time, and soldiers here face difficult living and working conditions, but they say they can get the job done.
---