After Afghanistan election, governors seek distance from 'illegal' Karzai
In Panjshir Province, Governor Bahij says he wants to thwart protest of Afghanistan election. But he wants more autonomy.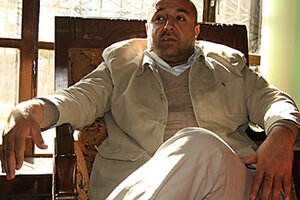 Ben Arnoldy/Staff
Haji Bahlol Bahij, a hulking former commander who governs one of Afghanistan's most peaceful provinces, serves at the pleasure of President Hamid Karzai. But that doesn't stop him from bluntly calling his boss's election "illegal" and achieved through fraud.
"I am with my people, I don't care if I have this position or not," says Governor Bahij, seated on a wooden throne from which he has run Panjshir Province for nearly five years.
The Panjshiris overwhelmingly voted against Mr. Karzai – and there's volatile anger on the street here about the fraud and corruption surrounding his reelection. But memories of the country's decades of war also run deep. From the governor on down to ordinary citizens, people are tempering their fiery rhetoric out of concern it could lead to the firing of guns.
"We don't know what to do about this government," says Bahij, who rules out street protests. "In America and in other developed countries, if there is a demonstration or a protest, it's going to be peaceful. But here in Afghanistan, I can assure you that if there is a protest, they are not going to do it in a peaceful way."
---