Amid war Afghanistan trains thousands of new midwives
Afghanistan's health system is still deeply troubled after decades of war. But progress is being to reduce infant and maternal mortality.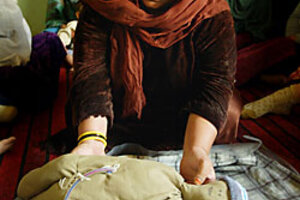 Melanie Stetson Freeman/Staff/File
Through a courtyard piled high with heaps of trash and teeming with flies, two sturdy women sit in a cool, dark room before a group of nearly a dozen women who range in age from 15 to 50. The two are midwives who have come to talk to the women living here with limited electricity and little clean water about the importance of maternal health.
Girls from nearby houses stream in as the midwives begin their presentation, pouring water from a clay-­colored pitcher and moving their soapy hands slowly clockwise to show the proper method of hand washing.
When an older woman tells a girl living next door she is too young to join the session, the midwives intervene. The more learning, the better, they say, in a country plagued by the world's second-highest maternal mortality rate.
Afghanistan's capacity to address the health of its women has taken a remarkable turn for the better in the past seven years. In 2002, 60 percent of Afghans had no access to basic health services, according to a study led by Linda Bartlett, then of the Centers for Disease Control and Prevention in Atlanta. Furthermore, two-thirds of the country's districts had neither maternal nor child health services, with only 10 percent of Afghanistan's hospitals equipped for caesarean deliveries. Nearly 80 percent of the maternal deaths examined in Dr. Bartlett's study were judged preventable.
But today, maternal health is among the nation's most tangible signs of progress thanks to projects such as this one sponsored by Terre des Hommes (TDH); investment by the international community in a network of clinics; and the growth of midwifery training programs. Afghanistan now finds itself in the rare position of serving as a role model for other poor countries seeking to quickly improve their ability to save women's lives.
---