Northwest Pakistan sustains third bombing in three days
At least 24 people died in a car bomb near Peshawar, Pakistan, Tuesday. The Taliban are retaliating for the Army's offensive on their home turf.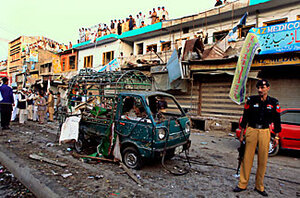 Mohammad Sajjad/AP
At least 24 people were killed Tuesday in the third bombing in as many days in Pakistan's militancy-plagued northwest, as extremists continued to wreak revenge for a US-backed offensive against Taliban guerrillas.
The car bomb ripped through a market in Charsadda, a town in the North West Frontier Province. More than 100 were wounded, and the death toll may be as high as 32, according to some reports.
On Sunday, a suicide attacker targeted the leader of an anti-Taliban militia on the outskirts of the provincial capital, Peshawar, killing 12, and the suicide bombing Monday of a police checkpoint in Peshawar claimed three lives.
Islamic extremists unleashed their latest campaign early last month to coincide with an Army ground operation against the Pakistani Taliban stronghold of South Waziristan. More than 300 civilians have died in a wave of bombings and gun attacks, including an attack in a Peshawar shopping district two weeks ago that killed more than 115.
---