US ambassador to Afghanistan's criticism adds urgency to curbing Karzai
Influential US ambassador Karl Eikenberry has reportedly argued that Afghanistan is too politically unstable under Karzai to send more troops. Western and Afghan officials are brainstorming ways to check the president's power.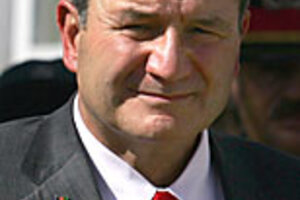 Altaf Qadri/AP/File
America's ambassador to Afghanistan has objected to sending more troops here while the political situation remains unsettled, in a move that highlights how the fraud marred reelection of President Hamid Karzai has not quelled calls for major governmental reform, but only magnified them.
Ambassador Karl Eikenberry has reportedly sent multiple cables back to Washington over the past week adding outlining his misgivings to a proposed surge of tens of thousands of US troops requested by the commander of NATO forces here, Gen. Stanley McChrystal. Mr. Eikenberry himself once commanded US forces in Afghanistan, adding clout to his concerns.
Western governments are trying to carve out ways to reach around Mr. Karzai by forging working relationships with other levels of the Afghan government. The constitution, however, gives Karzai sweeping powers, meaning he can expect to face international pressure now to appoint more effective deputies and heed postelection calls for constitutional reform.
"What you need to do is have good ministers who know their own portfolios, that decisionmaking is decentralized to a workable level and they kick things up to the president when they need to," says a Western diplomat.
While such criteria seem basic, Karzai cut pre-election political deals aimed at shoring up his electoral odds that may give loyalists precedence over technocrats. Some of the most important deals involved notorious warlords like Abdul Rashid Dostum and Marshal Fahim who will now be looking for payback in government jobs for themselves and their supporters.
---