Big test for Afghanistan education
To boost Afghanistan education standards, 42,000 teachers take an exam Sunday to establish a pay scale and woo international funding for higher salaries. Three in four teachers haven't studied past high school.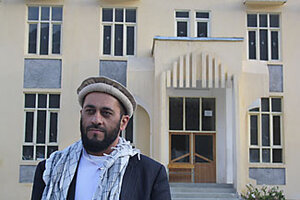 Ben Arnoldy/Staff
On Sunday, 42,000 teachers across Afghanistan will sharpen their pencils and sit for an exam. A first of its kind, the test will evaluate their competency and set them up for pay raises if they score well. It could also pave the way for a badly needed boost in international funding for education here, where only one in four teachers have studied beyond high school.
With pay so low that many teachers need a second job to make ends meet, most educated Afghans have gravitated away from the classroom. The government is unable to provide higher salaries itself, and so far international donors have been leery of subsidizing higher salaries without greater transparency about how skilled the teachers truly are.
Improving teachers is crucial for achieving peace in Afghanistan – and not just in the obvious long-term sense of creating economic opportunity for the next generation. Teachers make up two-thirds of the civil service and are crucial links between a weak central government and the countryside.
"If the life of teachers is good, they are thinking of themselves as a part of this government and they will advise the people not to make problems. It will help security," says Sediq Amarkhil, spokesman for the Ministry of Education. "You can eliminate the distance between the people and the government."
A cool head in Panjshir
Abdul Kabir, a teacher in Panjshir Province, demonstrates how an educated teacher can impact local security.
---