Khmer Rouge war-crimes trial of prison chief Duch closes in surprise twist
The Khmer Rouge war-crimes trial for regime leader Duch ended with a plea for acquittal. Some say the UN tribunal is in danger of falling apart due to political interference.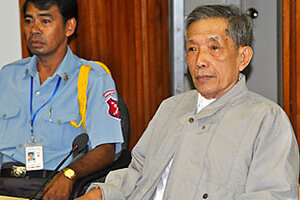 Lars Olsen/ECCC/Reuters
In a surprising plea on the final day of statements at the Khmer Rouge war crimes tribunal Friday, a prison chief asked judges to release him, claiming he was not a high-ranking member of the regime.
Kaing Guek Eav, better known by his nom de guerre, "Duch," was in charge of the S-21 prison, where he oversaw the torture and execution of approximately 15,000 people.
Prosecution lawyers have asked for a 40-year sentence for the 67-year old, arguing that Duch was a key intelligence operative (to read about his transformation from Khmer Rouge torturer born-again Christian, click here). Defense lawyers pleaded for leniency, suggesting that their client has been made a scapegoat.They have noted that S-21 was one of a network of similar prisons, and pointed out that Duch is the only one of the four suspects currently facing charges to admit his role in atrocities committed by the regime.
Duch's request for acquittal was an unexpected twist in a trial that has been cathartic for Cambodians who suffered under the brutal regime, which killed as many as 2 million of its own citizens between 1975 and 1979. But some say the UN-backed tribunal is in danger of falling apart due to political interference from Cambodian officials, who are worried about compromising information emerging from testimonies in the trials of the remaining suspects, all of whom were members of the inner circle of Khmer Rouge leadership.
"I have a feeling this is the only trial we're going to get," said David Chandler, an expert on the Khmer Rouge who first arrived in Cambodia as an American diplomat in 1960 and now teaches at Monash University in Melbourne, Australia.
---