Sri Lanka Tamils: freed from camps, their votes may give them new clout
Sri Lanka Tamils may have been freed from camps because of the politics surrounding upcoming elections as much as international pressure.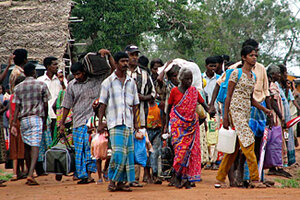 Sanath Priyantha/AP
Sri Lanka's government freed hundreds of thousands of Tamils from vast internment camps in the north of the island Tuesday – prompted as much by upcoming elections as concerns over human rights, say analysts.
In May, when the Army finally routed the rebel Liberation Tigers of Tamil Eelam (LTTE) from their northern stronghold, much of the population of that area – close to 300,000 people - was imprisoned in overcrowded camps. Tuesday morning, fewer than half that number were thought to remain.
As conditions deteriorated, international pressure mounted, along with warnings that continued detainment would make reconciliation between the island's Tamil minority and Sinhalese majority increasingly elusive. That ethnic conflict was the root of the LTTE's long war against the government.
But internal politics are likely to have done more to secure the freedom of the northern Tamils than foreign pressure.
"[For] the first time in a long time, the government has been forced to focus on the minorities," says Jehan Perera, executive director of the National Peace Council of Sri Lanka, a nonpartisan advocacy group.
That change was ushered in last month, when Sri Lanka's Army chief, Gen. Sarath Fonseka, stepped down as head of the military and announced he would run as the opposition candidate against President Mahindra Rajapakse in general elections in January.
President Rajapakse had called an early election to take advantage of the popularity garnered by his historic defeat of the LTTE. But analysts say General Fonseka's bid threatens to split the president's Sinhalese voter base – forcing Rajapakse to court the vote of the Tamil minority.
---