Obama's Afghanistan speech: How it sounded to Afghans
Obama's Afghanistan speech set a timeline for withdrawal, but some Afghans worry that by sending more troops the US aims to occupy their country – a fear the Taliban may use to recruit fighters.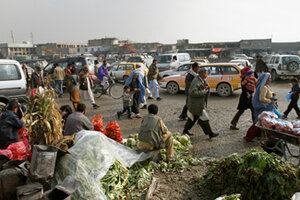 Musadeq Sadeq/AP
It's not just Americans who are concerned about the wisdom of escalating the Afghan war. Many Afghans also say it's a waste to send more troops.
"One American soldier costs about $1 million a year," says Jabar Wafaie, a security guard from restive Uruzgon Province working in Kabul. "The troops that are already here, they can do well now, if they wanted they could destroy the Taliban."
Across ethnic lines, Afghans interviewed in Kabul have concluded that foreign troops must not be working hard, or perhaps prefer to have an excuse to occupy.
Critical to the coalition's success here is convincing Afghans that they can trust its promises of security and handover – and thus need not side with the Taliban.
But President Barack Obama's speech Tuesday night, in which he pledged 30,000 more troops and set a timeline of July 2011 to begin withdrawal, appeared to do little to convince Afghans that the US aims only to stabilize and leave their country.
Afghan leaders give mixed reviews
Some Afghan leaders, however, heard within the speech – particularly in the timeline and clear denial of intent to occupy – the promises needed for them to go out and change people's perceptions.
"[Mr. Obama] may not be convincing the normal people or the Taliban, but by saying these things in the speech, this gives to the politicians, scholars, and spiritual leaders a free hand now. We are the ones … to win over our people," says Khalid Pashtun, a member of Parliament from the southern province of Kandahar.
---