After the Taliban: Afghanistan's kids ready for education, but schools not
In Afghanistan, the number of kids in school has grown more than six times since the Taliban were in power. But millions of children still wait, and classrooms and qualified teachers are lacking.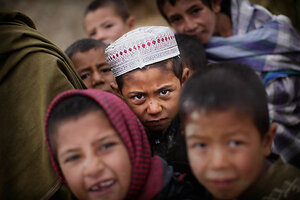 Kevin Frayer/AP
Qala-e-Zaman Khan High School is bordered by dirt roads at the base of a small hill in one of Kabul's many districts. The school's mud brick buildings have been recently painted, and its bright blue walls, nestled against the drab hillside, stand out from a distance. "All the faculty pooled money to buy the paint," says principal Abdullah Amin, "and our families helped with the work."
But the paint is just one step along a very long road, he notes. "Our biggest problem," he says, "is that we don't have adequate classroom space for the high number of students."
Under the Taliban, Afghanistan had only 900,000 students, all boys. The curriculum revolved around religious instruction. Today, some 6 million students, boys and girls, attend schools – though some 5.3 million children wait in the wings, held back by cultural or security reasons.
But the momentum poses a huge challenge to a country pummeled by war and fraud-ridden elections. The rapid rise in enrollment has led to two pressing problems: a lack of professional teachers and too few schools and classrooms.
At Qala-e-Zaman Khan High School, those problems are clearly on display. The school has 4,000 students, but only 26 classrooms. A small house two blocks away has been rented, but has done little to ease overcrowding.
---