How NATO hopes to undercut the Afghan Taliban
The US troop surge comes with a new program to pay Taliban-allied villages to switch sides in order to weaken the Taliban's bargaining power in any high-level talks.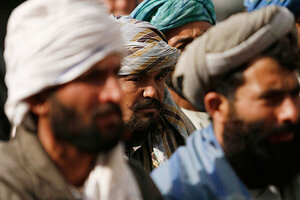 Fraidoon Pooyaa/AP
With its decision to deploy 30,000 more troops to Afghanistan, the United States is looking to put the Taliban in a more conciliatory mood.
If it can claim more successes on the battlefield, the thinking goes, it can convince more low- and mid-level insurgents to quit under a new NATO program created to win them over. And if it can hollow out this base of fighters and commanders on which Taliban leaders rely, it can improve its bargaining position against them in high-level negotiations.
"In a situation where security is widely perceived to have collapsed and the [Karzai] government is in a more precarious situation, it's unlikely [Taliban] fence-sitters would opt to jump onto the government side," says Michael Semple, a regional expert with experience dialoguing with the Taliban.
"So, in the short term, the only people ready to sign on would be the exceptions, where there are some local or personal political reasons," he says.
The new program, called the Commander Emergency Response Program (CERP), aims to avoid the fate of a previous Afghan-run effort, which wooed rank-and-file Taliban with government jobs but foundered under corruption and a failure to protect defectors.
Over the past five years this effort, the Program for Strengthening Peace and Reconciliation, has brought 8,300 Taliban members to the government side. But the pace has slowed, and foreign donors have yanked funding amid accusations that the PTS (the program is known by its Afghan acronym) has grown too political and corrupt.
---