Afghanistan war: Suicide attack highlights Taliban reach
The suicide attack was one of the most ambitious of the war, killing seven CIA employees and one Afghan on Wednesday. The attack occurred in Khost Province, near the Pakistan border.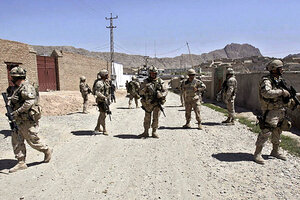 Nadeem/REUTERS
A suicide bomber penetrated a foreign Army base in Afghanistan and killed seven CIA employees on Wednesday, one of the US agency's largest death tolls, while four Canadian troops and a journalist died in a separate attack.
The suicide attack was one of the most ambitious of the war, highlighting the insurgency's reach and coordination at a time when violence has reached its highest levels since the overthrow of the Taliban regime by US-backed Afghan forces in 2001.
The Taliban claimed the attacker as a sympathizer from the Afghan Army who detonated a vest of explosives at a meeting with CIA workers. A spokesman for NATO-led forces in Afghanistan said Afghan security forces were working on the base.
A US official, speaking on condition of anonymity, said seven CIA employees and one Afghan had been killed in the attack. Officials had initially said eight CIA employees were killed.
"This deadly attack was carried out by a valorous Afghan Army member," Taliban spokesman Zabihullah Mujahid told Reuters.
The Afghan Defense Ministry said no Afghan soldiers were involved in the attack and said none were stationed at the site of the attack in southeastern Khost Province.
But if the bomber does prove to be from the Army, it would mark the second deadly attack in three days on foreign troops and officials by the soldiers they are meant to be mentoring.
---