How one US base in Afghanistan adopted two orphans
US soldiers in eastern Afghanistan pay two orphan boys a day's wage to do odd jobs and stay in school. The young boys are trying to support their Afghan families. The Americans are trying to salvage a bit of the orphans' childhood.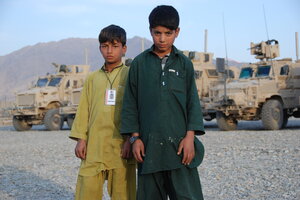 Tom A. Peter
Combat Outpost Penich, Afghanistan
An Afghan laborer at Combat Oupost Penich was carefully maneuvering a forklift when an attack almost caused him to lose control of the vehicle.
"Scrappy," an Afghan orphan who works on the United States Army base, had pinned the forklift driver down with a Super Soaker squirt gun and was blasting him in the face.
Call it both the hazard and the joy of keeping two orphan kids on the payroll, but few soldiers at this remote base in eastern Kunar Province regret having them around.
The orphans, who go by Scrappy and Donovan, are both the base's unofficial mascots and charity project. They live with their extended family in a nearby refugee camp and spend afternoons after school working on the base. How they ended up here is something of a happy coincidence and the US intersection with Afghan culture.
It's not uncommon for the Afghan military to hire young boys to do odd jobs around the base. When Attack Company, 1-32 Infantry Battalion moved into the area for the first time, they found Donovan working for the local Afghan Army unit in exchange for meals and foodstuffs for his family.
Donovan's father had been killed by the Taliban, leaving no one to support his family of four, so as the oldest son, even though he was only 12, Donovan had quit school and begun working. The only job he could find was working with the Afghan soldiers in exchange for the meager provisions.
When the soldiers in Attack Company learned about this arrangement, they invited Donovan to work on the US outpost for the same rate as the adult day laborers. Three months later, Attack Company also hired Scrappy, who came from similar circumstances as Donovan – but with a family of 10 to support. The main condition of their employment is that they attend school every day.
---