Afghan government: Karzai scrambles to form cabinet as deadline looms
Afghan President Hamid Karzai presented a second list of cabinet nominees over the weekend after Parliament rejected most of his initial picks. Karzai wants to lock down his cabinet before a key Jan. 28 conference in London.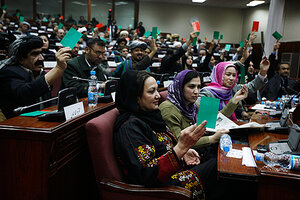 Farzana Wahidy/AP
The Afghan government is trying to settle a simmering political dispute ahead of a key international conference designed to win more European support for the country.
After the Parliament rejected most of his cabinet nominations, President Hamid Karzai quickly put forth a new list this weekend and succeeded in keeping the legislature from leaving for a scheduled six-week recess.
Analysts credit Mr. Karzai with putting forth a new roster that has a chance of meeting with greater success. But if Karzai cannot clear this latest political hurdle, doubts could deepen in European capitals about the prospects for stabilizing the country.
"Various donor governments have been looking towards [the London conference] as a landmark after which they will make decisions about sending more troops," says Anna Larson, a researcher on governance with the Afghanistan Research and Evaluation Unit in Kabul. This can be seen in the case of Germany, she says, where Chancellor Angela Merkel has used the conference, which starts Jan. 28, as a decisionmaking point for future contributions, military or otherwise.
Karzai gives ground
Karzai offered his new slate of 16 cabinet picks on Saturday, a week after Parliament rejected two-thirds of his initial choices. Three are women (the sole female nominee in the first group was rejected). Nominations for two ministries – energy and telecommunications – are expected in the coming days.
Members of Parliament had warned Karzai that it would be unconstitutional to rename any of those who had been rejected the first time. Technically, that's a gray area of the law, but Karzai did not press the point.
---