Thai Prime Minister Abhisit interview: 'We're a government that can maintain order'
Confounding his critics, Thai Prime Minister Abhisit, who took office a year ago, has faced down challenges from opponents and stifled antigovernment unrest. But protesters are gearing up for more disruption.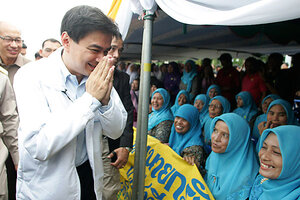 Surapan Boonthanom/Reuters
When Thai Prime Minister Abhisit Vejjajiva came to office just over a year ago, few expected him to stay long. His two predecessors had been toppled by royalist protests and controversial court rulings. Concerns were rising that Thailand, a longtime US ally, was becoming dangerously divided and ungovernable.
Since then, Mr. Abhisit has consolidated his political base. He has faced down sharp challenges from his opponents, including antigovernment unrest last April that saw armed troops retake the streets of Bangkok. In recent months, the battered economy has revived, buoyed by stimulus programs and a tentative sense of normalcy.
But street protesters aligned to former Prime Minister Thaksin Shinawatra, who was ousted by a coup in 2006 and lives in exile, are gearing up for more disruption. A protest was held Monday outside Bangkok. The ruling coalition has also been rocked by a Health Ministry corruption scandal.
Bridging political divide?
Still, Mr. Abhisit, leader of the Democrat Party, seems determined to stay the course. He says that his administration has governed effectively for Thais across the political divide.
The political divisions "are still there," he says, in an interview. "But we've shown that we're a government that can maintain order, can get other policies done, even long-term policies on welfare issues, and do this while respecting the rights of the political opposition," he says.
---