What's behind latest Taliban attack on Kabul?
The latest Taliban attack on Kabul comes amid new Afghanistan government efforts to lure militants away from the insurgency.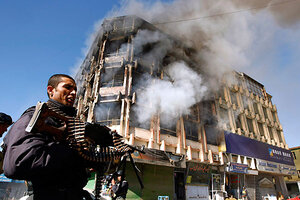 Omar Sobhani/Reuters
Taliban gunmen attacked central Kabul on Monday, delivering a deadly response to new efforts by the Afghan government to get insurgents to defect.
Explosions rocked the capital as two of the attackers detonated suicide vests. Gun battles raged for more than five hours near the gates of the presidential palace, other ministries, and inside a shopping complex. So far, according to preliminary reports, five people have died and nearly 40 were wounded, while security forces killed seven attackers.
The insurgency has felt pressure from several angles in recent weeks. The United States doubled down with more troops, and is signaling a major new offensive in the south. The Afghan government, meanwhile, has begun talking up lavish new incentives of jobs and training for defectors. As for the Afghan people, which provide the oxygen for any insurgency, a poll last week found public support rebounding for President Hamid Karzai.
Trying to short-circuit Karzai outreach
The attack can be read as a Taliban effort at "giving a negative answer to the outreach of Mr. Karzai, threatening Afghanistan before the London Conference, and, of course, showing their power even when polls say Afghanistan is getting on the right track," says Waliullah Rahmani, a security analyst with the Kabul Center for Strategic Studies.
---