Afghanistan war: gap grows between US efforts, Afghan expectations
Many Afghans say the pace of development has not matched the amount of investment. Since 2001, the US has spent more than $39 billion on humanitarian and development projects.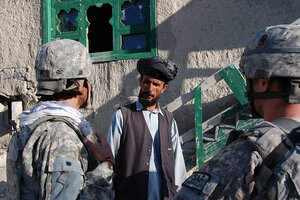 Tom A. Peter / The Christian Science Monitor
As a group of Afghan men gathered around US Army Staff Sgt. Adam James, neither he nor the locals were terribly enthused about talking. James's platoon had been tasked with surveying villagers about their needs in Dabay, a tiny collection of houses in Paktika Province.
Nearing the end of their yearlong tour, even the privates in the platoon could guess fairly accurately what the Afghans would say – irrigation equipment, building supplies, and warm-weather clothing.
As for the Afghans, after more than eight years of US soldiers passing in and out of their town, they had a pretty good idea of what would happen. One villager initially refused to speak to the soldiers, saying, "Five years ago, American soldiers came here asking about our problems. They wrote them down in their notebooks and then they never came back."
For both Afghans and US soldiers alike, reconstruction often proves a frustrating process. After nearly a decade of reconstruction pledges from the US and international community, many Afghans have grown frustrated by the slow pace of progress. Meanwhile, the US soldiers juggling the country's security challenges and development projects must constantly deal with expectations management.
Given the amount of money invested in the country, many locals charge that the pace of development has not matched the level of investment.
$39 billion on humanitarian aid, reconstruction
Since 2001, the US has spent more than $39 billion on humanitarian and reconstruction projects in Afghanistan, not including the more than $25 billion that has come from the international community. As in Iraq, however, there have been a number of problems with limited oversight, and many international watchdog agencies speculate that billions of dollars allocated to Afghanistan's reconstruction is probably unaccounted for.
---