In Pakistan, high court investigates 'disappearances' in wake of 9/11
In a move that could shed light on Pakistan's intelligence services, the Supreme Court is investigating the extrajudicial detention of more than 1,000 Pakistanis after 9/11, some of whom are still missing.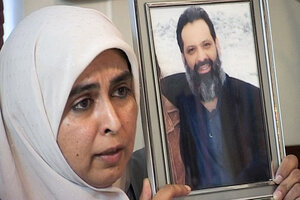 Photo courtesy of Amnesty International/MCT/Newscom
Nearly five years after her husband went missing, Amina Janjua remains hopeful of his recovery along with scores of others who were "disappeared" by Pakistan's secretive intelligence agencies in the aftermath of the Sept. 11 attacks.
"We're confident now. The courts are on the right track and they're making progress," says the diminutive, head-scarfed woman, who insists on representing herself before Pakistan's Supreme Court. "Of course it's going to be difficult... the last time they looked into these cases they were sent home," she says, referring to former military ruler Pervez Musharraf's declaration of a state of emergency in November 2008, which resulted in most of Pakistan's Supreme Court justices being sacked.
Experts say an ongoing hearing in Pakistan's Supreme Court tests the limits of the judiciary's ability to curb the influence of Pakistan's security agencies, including the all-powerful Inter Services Intelligence (ISI) which has in the past been termed a "state within a state."
In the years since the 2001 attacks in the US, several hundred people suspected of links to militant groups have been held in secret detention centers and some were transferred to the the United States for cash. The Pakistani government also imprisoned hundreds of activists fighting for autonomy in the southwestern province of Baluchistan.
---