Sri Lanka elections: Former partners in war now battle in politics
President Mahindra Rajapaksa expected an easy win in Sri Lanka elections after his historic victory against Tamil Tiger rebels – until his Army chief Gen. Sarath Fonseka decided to run against him. Tuesday's vote is expected to be close.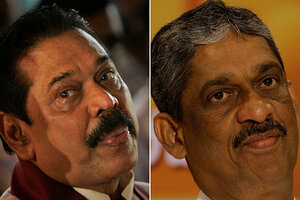 Eranga Jayawardene/AP/File
Voters go to the polls Tuesday in Sri Lanka to elect a president, eight months after the defeat of Tamil Tiger rebels whose bloody struggle had defined a generation.
Incumbent President Mahindra Rajapaksa called elections two years ahead of schedule, seeking to capitalize on the historic military victory. But that strategy came unstuck when Army Chief Gen. Sarath Fonseka emerged as his prime challenger at the head of an unlikely coalition of socialist, nationalist, and ethnic-minority parties.
The race has transfixed an ethnically divided nation that had broadly welcomed Rajapaksa's victory over the Liberation Tigers of Tamil Eelam after almost three decades of fighting for a separate homeland.
The challenger: from war's commander to Tamil defender
In the last months of the war, LTTE leaders made a final stand in a designated no-fire zone where thousands of Tamil civilians died in the fighting. Western allies accused Sri Lankan troops, then commanded by Fonseka, of firing into the zone to force mass evacuations. Sri Lanka has repeatedly denied committing any war crimes. A government commission is currently looking into claims of atrocities.
---