Afghanistan war: Good counterinsurgency, like good politics, is local
In Afghanistan, US soldiers on second or third tours are returning to the same areas, where they already know key tribal leaders and the terrain. The new strategy aims to cultivate relationships within the tribal culture.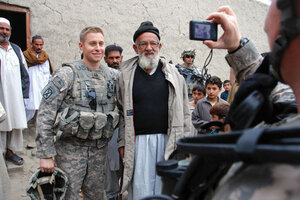 Tom A. Peter
Combat Outpost Penich, Afghanistan
After US Army Capt. Michael Harrison completed his first tour in Afghanistan almost two years ago, he kept in touch with many of the locals he'd befriended, calling to chat via his old interpreter.
When his unit redeployed to the Kunar River Valley, about a two-hour drive from Harrison's former area of operations in the Pesh River Valley, those friendships provided an unexpected benefit.
"Afghans are almost like big Italian families, they have family everywhere," explains Harrison of Rural Retreat, Va. "A lot of the people I knew from the Pesh actually had family in this area, so some of the elders from the Pesh came down here and … essentially vouched for me and introduced me to the Afghans here."
Most everyone in Harrison's Attack Company, 1-32 Infantry Battalion, credits their commander's and other soldiers' connections from the previous tour with helping to quickly win over the locals.
Good counterinsurgency strategy, like good politics, is local.
The experience makes these soldiers poster boys for a new US strategy of redeploying units to areas where they've already served. As international forces focus more on protecting the population rather than just hunting the Taliban, commanders hope the strategy will create more continuity with local communities, helping forces cultivate the personal relationships so important in Afghanistan's tribal culture and build a broader institutional memory.
Building relationships and finding common ground
US Special Operations Com­mand in Afghanistan adopted this strategy a few years ago, rotating units back and forth between their home base and the same area for six months at a time. Since special operations veteran Gen. Stanley McChrystal took command in Afghanistan last May, the policy has been rolled out among regular Army units.
---