To fight deadliest Taliban threat in Afghanistan, US troops go low-tech
To thwart militants in Afghanistan from planting roadside bombs, or IEDs, US soldiers are pleading with locals to alert them to threats. Air surveillance can be too imprecise and approval for airstrikes too slow in coming.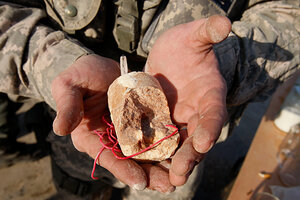 Kirsty Wigglesworth/AP
Combat Outpost JFM, Afghanistan
The metal detector was almost off the scale.
In front of a dusty track lay a five-foot-wide crater where an Afghan farmer had been killed by a roadside bomb. Scrap metal used for shrapnel was buried everywhere.
For the United States and coalition soldiers fighting the Taliban, every civilian the insurgents kill adds weight to the argument they repeat over and over: "The solution is to make the Taliban go away," Lt. Mark Morrison, a US platoon leader from Albany, N.Y., deployed in southern Afghanistan, told villagers. "That way you won't be in danger, and I won't be in danger."
Homemade bombs were the biggest source of coalition casualties last year, killing 275 out of 520 troops, and almost four times as many civilians.
But with the emphasis of the NATO campaign more firmly fixed than ever on avoiding civilian casualties, insurgents laying improvised explosive devices (IEDs) are usually long gone before confirmation of all the criteria needed to order an attack comes through.
Instead, foreign soldiers focus on cultivating relationships with villagers, trying to persuade them that homemade bombs are just as much a threat to farmers in their fields as they are to NATO soldiers on patrol, and that handing over the insurgents is the only solution. The idea is to beat the IED menace by winning hearts and minds.
"We need your help," Morrison (2nd platoon, Charlie Company, 1st Battlion, 12th Infantry Regiment) told a group of Afghan farmers on a recent patrol. "I know how to kill the Taliban – we are very, very good at that. What I need your help with is finding where they come from and where they go to. You need to tell me who doesn't belong with you."
---