India's sacred cows also touted as economic savior
Hindu activists and environmentalists in India are advocating "cow-based" farming – using urine instead of chemicals, bulls rather than big-rigs. They argue that while pesticides and expensive equipment yield bigger harvests, they have also indebted farmers.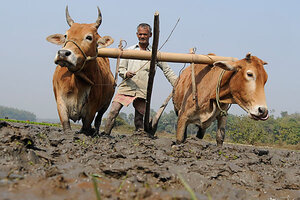 Jayanta Dey/Reuters
Move over Bengal tiger.
Indian activists drove 14 cattle carts into New Delhi Sunday piled high with an alleged 80 million signatures on a petition to name the cow as the new national animal.
Though the signature tally could be bullocks, the petition's aims are utterly sincere: ban the slaughter of cows, institute a central government Ministry of the Cow, and move India to a "cow-based" economy.
Most Indians are small farmers, not software engineers, and basing the economy around the cow means returning the animal to the center of farm production by substituting dung for chemical fertilizers, urine for pesticides, and bulls for tractors and big-rigs.
The movement reflects a growing Indian rethink of the Green Revolution, a technological transformation of agriculture in the 1960s that historians credit with saving the nation from starvation. Cow-based farming pulls together many critical voices – including Hindus, environmentalists, and antiglobalization activists – but worries some that India's food security could be jeopardized if taken too far.
"The application of the Green Revolution was mistaken," says Y.V. Khrisnamoorthy, a top organizer of the petition drive known as the Gou Grama Yathra. "Food yields should be increased, but the mistake is they opted for mechanical and chemical farming, and that wasn't necessary for India."
Hindus revere the cow as a sacred animal for its role as a provider to mankind. Religious leaders, including the politically powerful group, Rashtriya Swayamsevak Sangh (RSS), funded and rounded up volunteers for the petition.
---