Q&A: Who else could help in Afghanistan?
The US and Europe play a leading role in working for Afghanistan's stability. Can the interests of China, India, Iran, Pakistan, and Russia also aid in the nation's success?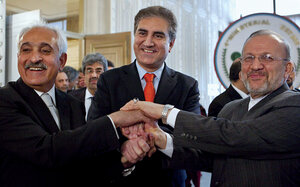 Faisal Mahmood/Reuters
Although the United States and its NATO allies are leading the effort to stabilize Afghanistan, many of Afghanistan's powerful neighbors also have an interest in how the country fares.
China, India, Iran, Pakistan, and Russia are each invested in Afghanistan – Beijing, for example, has committed billions to mine copper, and Tehran pours aid into areas that border Iran.
Also out of national interest, though, these countries are leaving to the West the difficult task of fighting the Taliban. And for some, disagreements over unrelated issues have prevented further cooperation on Afghanistan.
Here's a look at what role these countries play in Afghanistan.
How important are Afghanistan's big neighbors to achieving peace?
---