Who's who in the Pakistan Taliban
New reports surfaced Sunday that Pakistan Taliban leader Hakimullah Mehsud died after a US drone attack Jan. 14. A look at other senior figures in the group.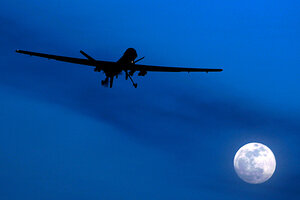 Kirsty Wigglesworth/AP
Questions resurfaced this week as to whether Hakimullah Mehsud, the brash young commander of the Pakistani Taliban, was killed by a US drone attack on Jan. 14.
Renewed speculation that the Taliban leader was dead was sparked by a report on Pakistani state television Sunday night saying he had been buried.
The Taliban denied the report through their spokesman, Azam Tariq. Pakistan Army spokesman Maj. Gen. Athar Abbas said the military is still seeking confirmation.
Mr. Mehsud took power last August when his predecessor, Baitullah Mehsud, died from injuries sustained in a US airstrike.
Here's a list of possible contenders to succeed Hakimullah, as well as other key figures in the Pakistani Taliban.
Waliur Rehman
As deputy leader of the Pakistani Taliban, Waliur Rehman, a former spokesman for Baitullah Mehsud, is the opposite of the fiery Hakimullah. He's quiet, serious, and brooding. The religious scholar – whose studies qualify him for the honorific of "mullah" – lacks Hakimullah's charisma and reputation for boldness but retains a sizable following.
---