Afghanistan war: US troops' new push into 'heart of darkness'
US soldiers in the Afghanistan war are battling to clear the 'heart of darkness' in Kandahar Province where Taliban chief Mullah Omar used to preach. It's one of many operations gearing up in southern Afghanistan as more foreign troops arrive.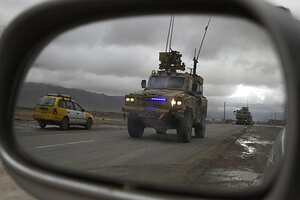 Allauddin Khan/AP
The soldiers came under Taliban surveillance as soon as they set out. Intercepted radio chatter among insurgents left no doubt that Charlie Company was walking into an ambush as it closed on a Taliban stronghold deep in southern Afghanistan's Kandahar Province.
The sudden clatter and whine of small-arms and machine-gun fire sent everyone scrambling for cover. Bullets spat up dust from the berms of a grape field. The shots hit far more accurately than those of local fighters – one of many signs that committed militants had returned early from their winter break in Pakistan.
"They were close. That was good stuff," said Spc. Justin Jun, of Lake Tahoe, Calif. "I don't think I'll need to shave in a while."
Since being deployed here six months ago, the United States Army company (1st Battalion, 12th Infantry Regiment) has been pushing due west of the provincial capital, Kandahar, into what foreign forces call the "heart of darkness." Zhari district – a patchwork of irrigation ditches, grape fields, and tightly packed mud compounds – is not only ideal guerrilla territory but also an area of enormous symbolic importance. Four miles west of Charlie Company's patrol route lies the village mosque where one-eyed cleric-turned-Taliban leader Mullah Mohammad Omar preached in the 1990s.
---